By popular demand, Web Sudoku now provides a special keypad for the Apple iPad and Android tablets. This allows you to complete a Sudoku without the puzzle moving or being obscured by the on-screen keyboard.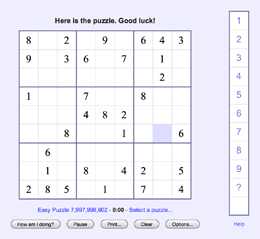 Using the side keypad for iPad and Android
Open Safari or Chrome and go to websudoku.com. Tap a box in the sudoku puzzle to bring up the side keypad. Tap a number in the keypad to enter it into the highlighted box. Use the blank in the keypad to empty a highlighted box.

Multiple numbers (pencil marking) with the keypad
Click 'Options...' under the puzzle and switch on pencil marking. This allows multiple numbers to be entered into a box, to indicate possible values. To remove a number from a highlighted box, tap it again on the keypad. You can also use the question mark to indicate that you are not certain about a number entered.

Using the standard iPad or Android keyboard
If you prefer to use the standard keyboard, click 'Options...' under the puzzle and disable the side keypad.

Send us feedback!
If you have any comments or suggestions on the new iPad and Android interface, please let us know.